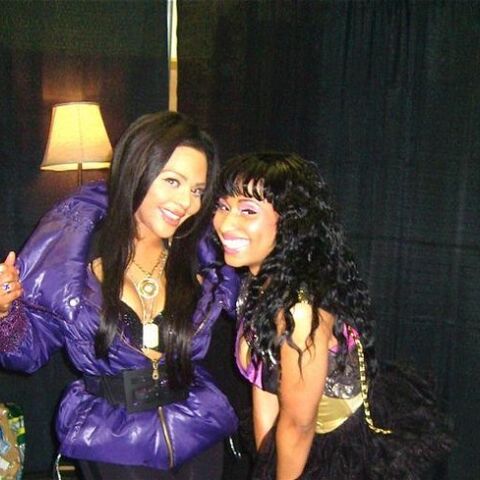 Authentic hip-hop is back, baby! After months of back and forth with rap newcomer Nicki Minaj, Lil' Kim has finally bounced back in the studio to give straight bars and heat. If you're not aware of the backstory,
back in June
the Brooklyn native emcee stated that she felt Nicki Minaj was biting her style. Come to find out, Kim was 100% correct. A few of her fans created collages showing comparisons of Big Momma's 1990's and 2000's fashion looks with Nicki Minaj's new looks:
Looks about thefty if you ask me! Nicki Minaj did an interview with HOT 97's Angie Martinez and spoke about the beef, not even naming names. Accusations of her blatantly biting Kim's style were not even brought up. I find this fishy it wasn't brought up since Angie Martinez worked with Kim on her 1997 song
"Ladies Night"
and has been a major figure in the industry since the 1990's. She has personally seen Kim's various looks.
Minaj suggested that people are intimidated by success and competition and went on to state that the Brooklynite doesn't get along with any female rapper in the music industry. Minaj also stated that Black people need to stick together and to stop hating one another. Pretty ironic since a good majority of her music has content that degrades Black people, including a line from her new song off her
Pink Friday
album,
"Did It On 'Em"
stating that "nappy headed hos need a perminator."
Nicki Minaj also said that she heard through the grapevine, aka Foxy Brown, that Kim didn't like her from jump. She claims Foxy Brown told her this personally, y'all. I find that hard to believe since everyone who knows hip-hop knows Foxy Brown and Lil' Kim are not friends and do not get along. So how, may I ask, would that even get back to Nicki? Just as I suspected, yesterday Foxy Brown confirmed that the conversation
NEVER even happened
between her and Nicki.
Nicki Minaj seems like the type to throw the rock and hide her hand. She dissed Lil' Kim first with her Eminem featured track
"Roman's Revenge"
on her album. So no matter how "above it" she seems, she's definitely playing into it and feels guilty.
Take a listen to Lil' Kim's "Black Friday" track:
She snapped, crackled, and popped on that one! I'm loving it and played it over and over again. Lil' Kim is a legend and she has a right to call Nicki Minaj to task to pay homage.
Share your thoughts on the diss below!