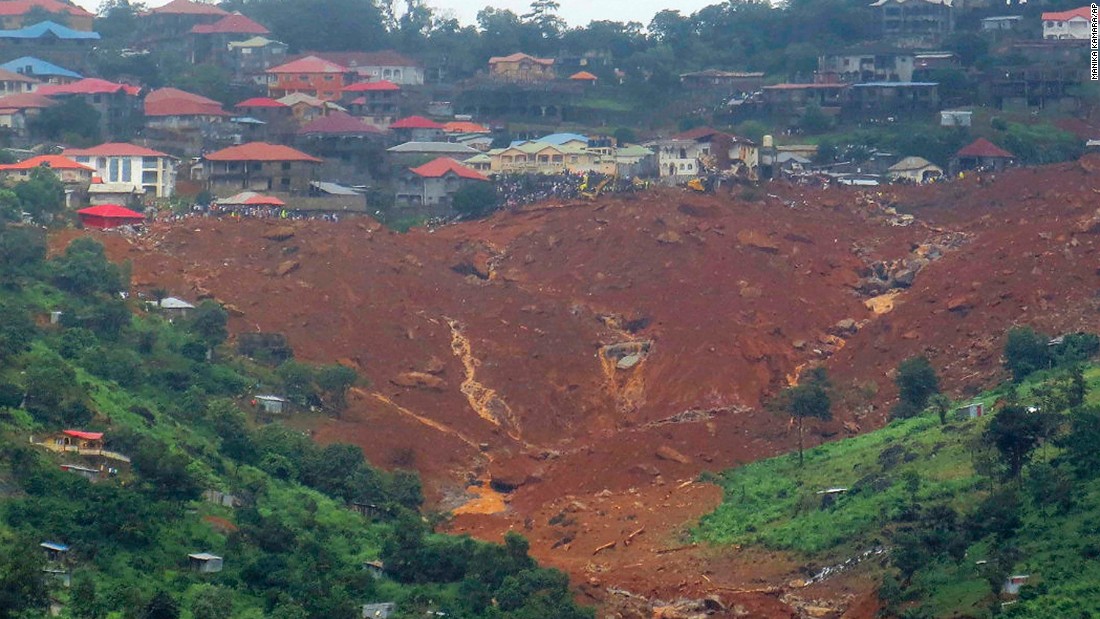 Photo: CNN
On the morning of August 14, 2017, floods and mudslides transpired in the area of Sierra Leone's capital city Freetown. The flooding and mudslides occurred after three days of intense rainfall. As of August 19, 2017 it has been
reported by CNN
that 3,000 of the citizens lost their homes, 499 people have perished (including 150 children), and about 20,000 people have been displaced. This event has been named on of the most devastating natural disasters to occur on the African continent in the modern age.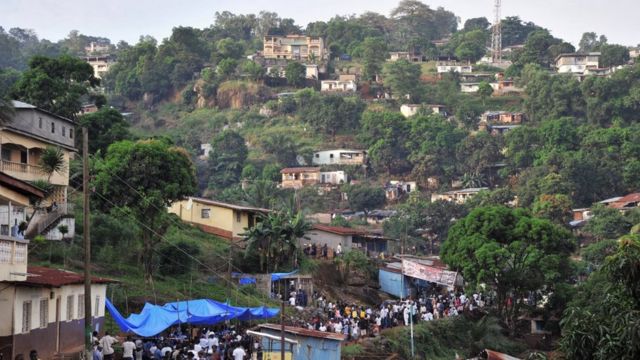 Photo: AFP
Since July, Sierra Leone has experienced an intensely rainy season with about 41 inches of rain. The country has the
highest rainfall in Africa
. Next to the capital city Freetown, the Sugar Loaf mountain crumpled due to the rainfall causing the mudslides. On top of that, the city is positioned below sea level, right off the coast. Since this occurred in the early morning, many citizens were not warned and were sleeping in their homes.
Besides geographical and causes pertaining to climate, because of the
legacy of colonization
and current
neo-colonization
throughout the continent of Africa, Freetown is an economically underdeveloped city resulting in tightly populated homes in the 1.2 million person occupied city (one of the many affects of colonialism). Sierra Leone country president Ernest Bai Koromo declared a state of emergency on August 14th and seven days of national mourning the next day. The Red Cross of Sierra Leone was sent in to excavate for remains of lost ones.
Last Thursday,
rescue teams from Liberia
arrived in Freetown to aid the citizens which includes a set of the Liberian Armed Forces and the Liberian Red Cross. The
Ghana Red Cross
and have also contributed in helping the country during this devastating time.
Donations from Togo, Nigeria, Guinea, South Africa, Liberia, the United Kingdom, Spain, Switzerland, and other countries have been sent to the country with aid ranging from drinking water to medical supplies and money. Foundations like the Clinton Foundation were notorious for
stealing money from Haitians
during the aftermath of the 2010 Haitian Earthquake. The Red Cross was reportedly
doing the same
. Unfortunately, with the country being vulnerable during this time, this may be the perfect opportunity for neo-colonialists in
countries like China
to continue to move in and utilize their economic advantage over the country and surrounding African countries. Keep in mind that many children are orphans now due to the mudslides. During the 2004 tsunami aftermath, a mass of
child trafficking
occurred in Indonesia.
If you are interested in donating to Freetown, please do thorough research on which legitimate organizations to send money and supplies to. We're currently researching reputable, no middle man organizations to contribute to. Please stay tuned for that information.
We'll continue to contribute to and pray for the people of Freetown, Sierra Leone.