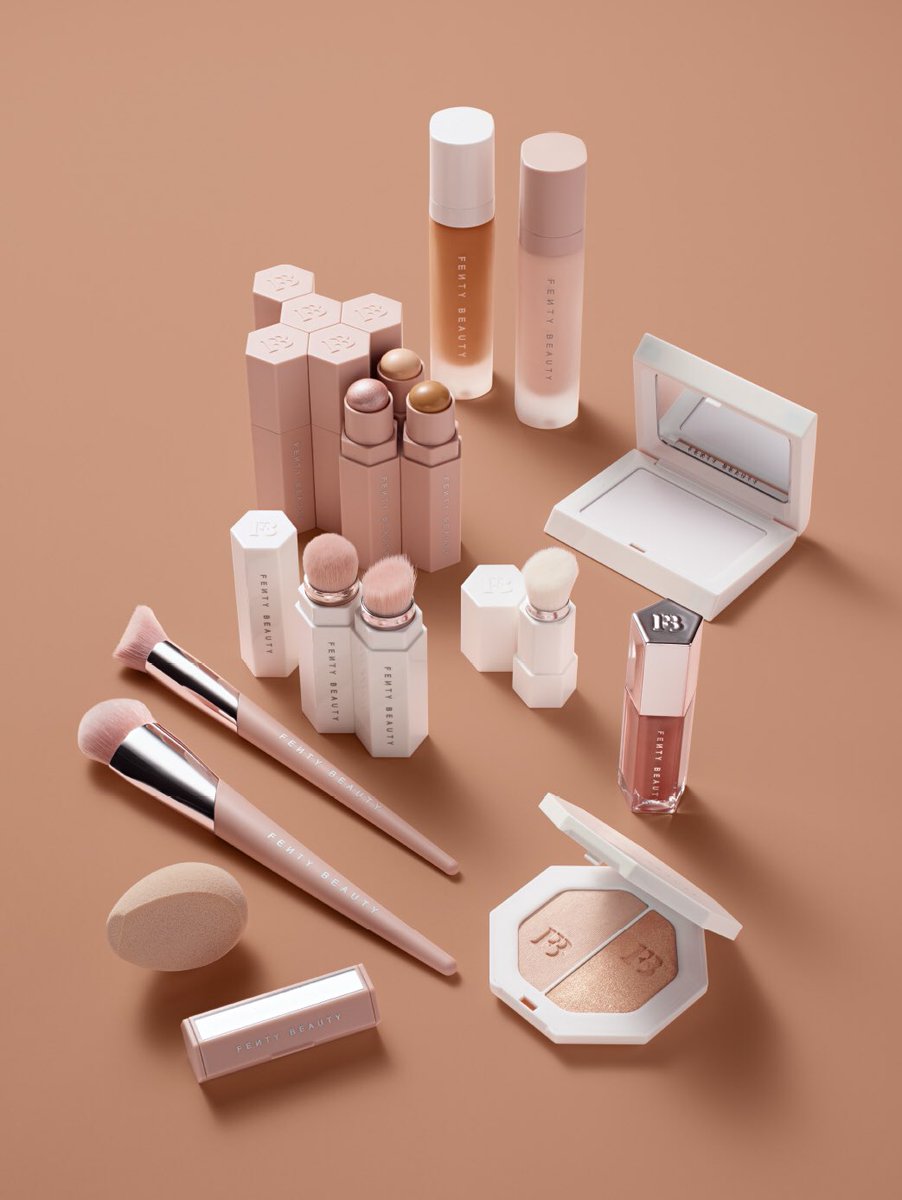 Photo: Fenty Beauty
Bajan pop star Rihanna has a makeup line! It's called Fenty Beauty by Rihanna (her last name, by the way) and it debuted on the website at 12am PST. It will also be sold in Sephora stores and on their website and in 150 countries.
Last week, the sneak peek video was released showcasing the diverse women representing the line:
So far, the cosmetics line whose parent company is
Kendo
(also responsible for Kat Von D and Marc Jacobs' makeup lines) carries illuminating compact powder, illuminating skinstick, primer, foundation, mattifying powder, brushes, and lip illuminator. I think it's smart to start off with a few products to give people options to purchase and not be too overwhelmed. The company can grow gradually and add more products. The price range is pretty regular for high end makeup, on the $20-$40 scale.
The foundation has boasted 40 different shades, which is a big deal since many cosmetics companies have lacked profoundly in the area of creating shades catered to woc.
There certainly are foundation shades available for darker skin tones and even some for albino folk which is amazing. I've honestly never seen this from a makeup company before and that's a huge step for inclusion. More shades are coming in the future as well.
Photo: Fenty Beauty
The launch party took place at Sephora in Times Square in New York right on time for Fashion Week and brought out makeup influencers like Alissa Ashley, Laura Lee, and Manny MUA to test the new products.
— Rihanna (@rihanna) September 8, 2017
— Alissa Ashley (@alissa_ashleyy) September 8, 2017
However controversy was in the Twitter streets amidst the Fenty Beauty Launch Party. Notorious beauty influencer and Marilyn Manson look alike/stunt double Jeffree Star announced he was attending the party on his Twitter account:
Getting glam and ready to celebrate the

@fentybeauty

launch tonight! 🔥✨

— Jeffree Star (@JeffreeStar) September 7, 2017
Jeffree Star has a YouTube following of 2 million subscribers, 5 million Instagram followers. He has his own cosmetics line, he's worked with makeup brands like Jouer, and has rubbed elbows with a few celebrities too. So what's the problem with him showing up to the Fenty Beauty launch party you ask? The problem is, Jeffree Star has a history of making racist and misogynistic comments to women, Black people, and Latinos.
Photo: theodysseyonline.com
This summer, famed attention whore Kim Kartrashian's beauty line KKW Beauty was released and she threw a launch party at her home where she invited big name beauty gurus like Jeffree Star and Jackie Aina. After Kim released her Roseart crayon quality contour stick kits packaged in beige Ziploc bags, she caught a heap of negative reviews online (chile, and had the nerve to charge about $50). A few weeks later, she released chalky powder dust contour and highlight kits resulting in Star testing one and referring to it as "struggle swatches". Kim's delusional stans came a runnin' to defend their botoxed and botched queen and brought up his racist past. Kim
made a video
casually excusing Jeffree's racist past causing major backlash.
What has been wracking my brain is why on earth people continue to associate with the likes of Jeffree Star and even Kim Kardashian and her family who has a history of cultural appropriation among other racially insensitive offenses. I understand beauty influencers are asked by their subscribers and supporters to review products such as KKW Beauty, however it's still indirectly promoting people like Kim and Jeffree. Yes, these influencers will get a fat YouTube check from the ads and views, however it still supports them in some way, shape or form no matter if the review is negative or positive.
Even after seeing the "struggle swatches" and poor quality contour kits, even after Kim defended Jeffree and apololied once she caught heat, people still went out to review her products. Kim said it herself: "Because of his comments, I'm learning from the best." Regardless of the massive hate the products received, Kim and her team can analyze the reviews to increase the quality of KKW Beauty. So again, negative reviews are still helping Kim to a degree no matter how many people claim to hate her and her culturally appropriating family, while still (purchasing and) reviewing their products. This is the same thing that happened with her sister Kylie Jenner when she debuted her Lip Smackers lip kits. These women didn't all of a sudden become problematic once they released their makeup lines. But if it can increase your social status, go ahead I suppose.
Similarly to the incidents I mentioned, some folk in the beauty industry support makeup brands who knowingly do not produce makeup for woc or feature woc only to beg them to be inclusive. It's especially upsetting when there are amazing quality makeup brands like
BLAC Minerals
,
AJ Crimson Beauty
,
Plain Jane Beauty
,
Koyvoca
, and many other BOMBs who go out there way to produce and have established their lines specifically to cater to Black women and other women of color but they rarely get attention from big influencers. Unfortunately because these brands aren't mainstream and many people (Black and non-Black) couldn't careless about Black owned businesses, they get overlooked (on purpose sometimes).
Jeffree Star has a huge following, however he's not the only big beauty influencer out there and I'm sure he could purchase Fenty Beauty products with his own dinero or even get a hook up. Whether Rihanna invited him herself or whether hear PR team invited him, I'm going to be honest and say that's not a good look especially since his racist statements have recently resurfaced with the Kim K. drama. It's actually irresponsible since so many people in the beauty community, poc in specific, have stated their distaste for Star. Stans will make excuses, but let's keep it a g; if this was anyone else they would be dragged. At the end and the beginning of the day, keep in mind it's all about business and collecting checks, from influencers to the companies.
As for Fenty Beauty, the shade range is dope and I love the fact that there was noticeably effort placed in the execution. This project took about two years in the production and the effort really shows. Kum K., please take notes. Take a peek at some of the goodies from the website:
Photo: Fenty Beauty
Photo: Fenty Beauty
Photo: Fenty Beauty
Photo: Fenty Beauty
Will you be purchasing any products from Fenty Beauty? Share below!