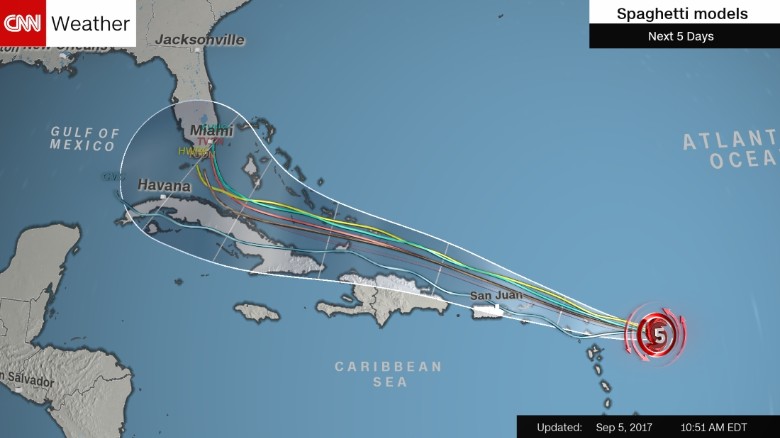 Photo: CNN
After the devastating
Hurricane Harvey
that hit Texas last week, another hurricane will be hitting the northeast Caribbean and Florida this week. The National Hurricane Center states that Hurricane Irma will eventually hit Antigua, the British and U.S. Virgin Islands, Puerto Rico and Florida midweek. As of today,
CNN reports
that as of today the storm will approach St Kitts & Nevis, Anguilla, and Antigua & Barbada. By the end of the week, Irma is reported to hit Haiti, Cuba, the Dominican Republic, and Florida.
Hurricane Irma formed in the Cape Verde Islands and made its way to the Caribbean through the Atlantic Ocean. The storm is to be reported as the fifth most dangerous storm in history with
winds traveling 180mph
.
Video: CIRA/RAMMB/NOAA via Washington Post
Throughout Florida and the Caribbean, citizens have evacuated costal residencies, stocked up on food and water, supplies to board houses, and even grabbed money out the bank. Florida governor Rick Scott has called for a state of emergency as well as Puerto Rico governor Ricardo Rosselló. Prime Minister Timothy Harris
of St. Kitts
and many more from the Caribbean have urged citizens to seek shelter and remain safely as possible through the storm. Thankfully people are preparing as soon as possible especially after witnessing the results from Hurricane Harvey. Keep the people of the Caribbean and Florida in your prayers and prepare to send donations and supplies.
The Weather Channel reported an hour ago that
Tropical Storm Jose
has just formed with Hurricane Irma.
— The Weather Channel (@weatherchannel) September 5, 2017
Check out these tips on surviving hurricanes and send them to people you know who will be effected by Hurricane Irma and Jose: