Photo: Twitter
You've been asking for it, and Twitter provided it! I've been on Twitter since 2009 and always found it a bit annoying that I could only tweet 140 words. Now that's all changed. The popular social media company announced on September 26 tweeters will now be able to fit 280 words in their tweets.
Can't fit your Tweet into 140 characters? 🤔

We're trying something new with a small group, and increasing the character limit to 280! Excited about the possibilities? Read our blog to find out how it all adds up. 👇

https://t.co/C6hjsB9nbL

— Twitter (@Twitter) September 26, 2017
This is a small change, but a big move for us. 140 was an arbitrary choice based on the 160 character SMS limit. Proud of how thoughtful the team has been in solving a real problem people have when trying to tweet. And at the same time maintaining our brevity, speed, and essence!

https://t.co/TuHj51MsTu

— jack (@jack) September 26, 2017
On
their blog
, the company described the transition. As of right now, this function is only available for a small group to test out until further notice. If there aren't any issues at hand and the company is down for the cause, the switch from 140 characters to 280 characters will be obtainable for all.
Check out the comparisons between 140 (left) vs 280 (right) characters: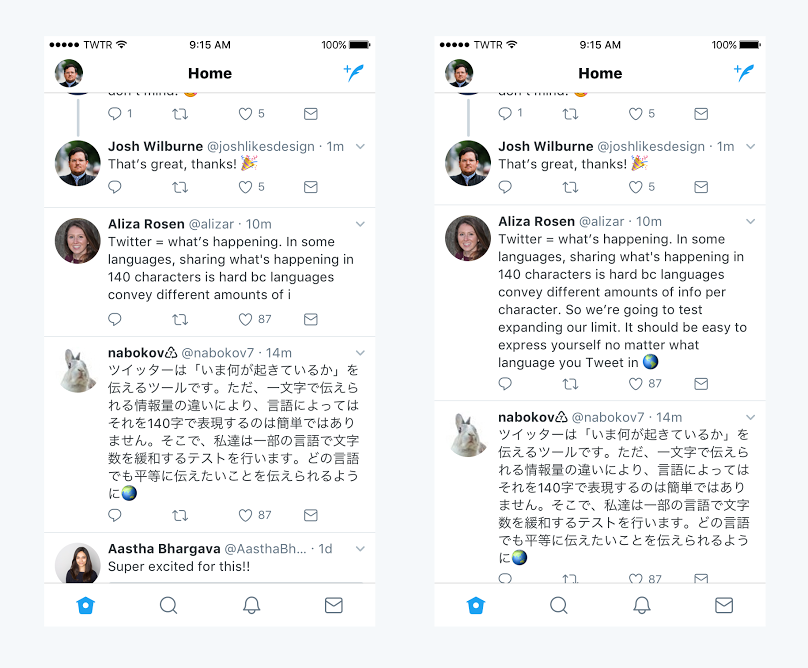 Photo: blog.twitter.com
It would be a bit odd to see such long tweets, but as a blogger and business owner, I think this would be very beneficial. Depending on who you follow, be prepared for rants, song lyrics, and so much more! Users have also chimed in about an edit button being needed, maybe that will come soon.
Are you looking forward to the 280 character change via Twitter?