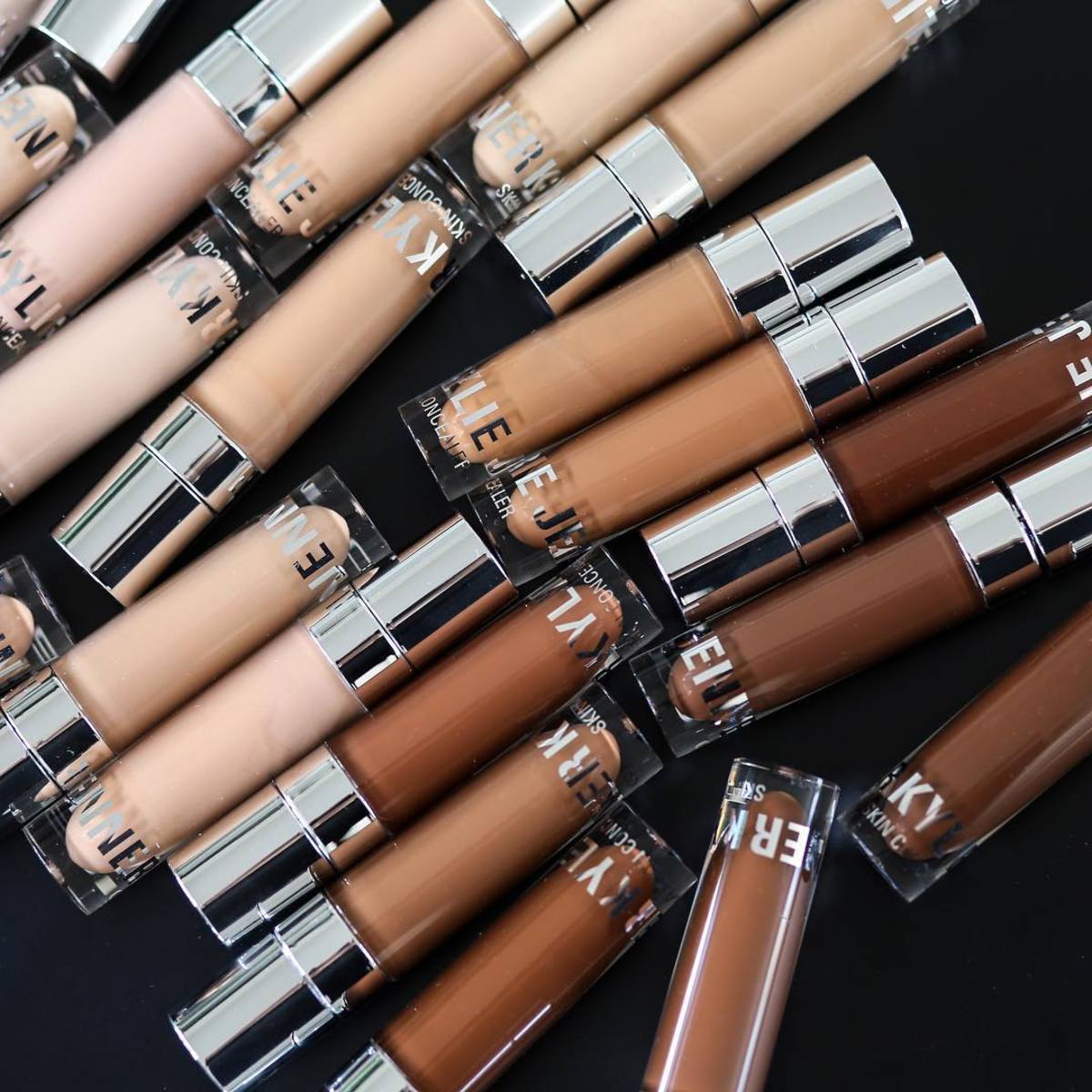 Famed robot and alabaster stone faced socialite Kylie Jenner has a makeup line called Kylie Cosmetics she's had for a few years now. After Rihanna's success with her new makeup line Fenty Beauty featuring 40 different foundation shades, many makeup companies have finally "caught up" and started showcasing their wide ranges of shades. Oh the irony! All of a sudden, these companies went in the lab to discover how to create shades for brown skin tones. That's what's going on right now with Miss Jenner. Yesterday Kylie Cosmetics' Instagram posted a photo of their newest range of "Koncealers" and it had many people calling out the company for "copying" Rihanna and Fenty Beauty. Kylie Cosmetics promises 30 different shades for women with skin tones ranging from fair to dark.


Over the past few years, Kylie Jenner and her entire family has
constantly
been called out for their
cultural appropriation of African American culture and other POC cultures
,
stealing fashion designs from Black women designers
, and my goodness, so much more I can't even list right now. Even Kendall Jenner, the sister everyone thought was the "safe" one out of the bunch, was blasted this past spring for starring in a pandering, racially insensitive and
downright foolish Pepsi commercial
that insisted police brutality and discrimination would be solved with a can of GMO soda. While it's pretty much known the Jenner and Kardashian clan is full of crap, many people who don't like them continue to support them financially. This includes supporting Kylie Cosmetics and Kim Kardashian's Crayola based struggle swatch line KKW Beauty.
I'm not one to tell people what to do with their money, but it's a bit strange to me how
some people
go out their way to purchase their products knowing and even expressing how obviously prejudice the family is. That's why personally, I couldn't grasp why so many popular makeup gurus were flocking to support KKW Beauty this past summer. Now, I do understand it's about business to a degree. Some makeup gurus will review the product only for YouTube clicks and views and that AdSense check. I'm not mad at that, get your money, but to some extent, it is still promoting the Kardashian/Jenner family and putting money in their "subtly" racist pockets especially if the products were purchased with their own money.
— black merry heaux (@localblactivist) September 12, 2017
What does upset me though, is that for years there have been numerous Black owned makeup brands and makeup brands created by WOC for women of brown and darker shades who have gone out of their way to be inclusive, but many in the makeup community wont look twice at them. I can't help but to notice this vigorous energy in the community of desperately begging companies who obviously don't care for non-White women to be inclusive and create shades for darker skin. This recently happened with
Huda Beauty
. Why beg to give your money to someone who doesn't care for you? Although
Rihanna definitely has other makeup lines shaking in their blush and mascara stained boots
, there have been lines before Fenty Beauty who have catered to darker skin tones yet have often been ignored to to a lack of (mainstream) popularity and celebrity cosign. Let's be completely honest here.
Do what you want with your money, but I'd hope some of these folks raving about how it's "good" Kylie Cosmetics is being "inclusive to WOC" and "that's what people wanted, so don't complain", will also spend a few coins with makeup brands who were creating shades for darker skin tones since day one. Here's a list of some
Black Owned Makeup Brands
in case you were wondering. Kylie Cosmetics' concealers will be in stock December 13.
Do you think Kylie is being genuine with her 30 shades of inclusiveness? Will you be purchasing a "Koncealer"? Share your opinions below!