Tarte Cosmetics is facing backlash for ignoring brown skin tones in their latest advertisement for the Shape Tape foundation. The beauty brand released swatches of their new products and it causes an uproar online due to the lack of brown shades. Throughout the years, many makeup companies have caught backlash for not including a thorough shade range for women of all skin tones.

Tarte revealed to POPSUGAR that 10 more shades will be added to the collection that already has 15 shades. Different day, same song.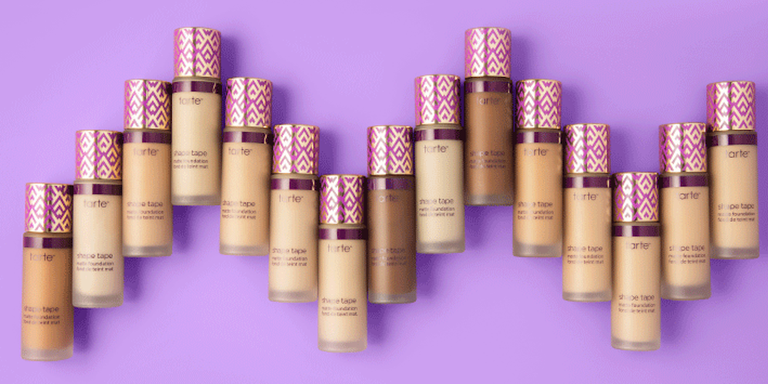 Photo: Tarte Cosmetics
Let me get straight to the point, when someone shows you who they are (the first time), believe them. Haven't we heard this from the late and great Maya Angelou before? Excuse me, for not feeling some type of way about this, but I couldn't care less about brands that don't feature "me". How many times and how many different ways do we need to be reminded that some of these companies ain't effing with us? The fact that certain companies had to be informed about including WOC in creating different makeup formulas and in ads should have been a tell-tale sign. As quiet as it's kept, the only reason some of these companies are even checking for melanin is because of how impactful and strong the POC inclusiveness wave is via social media.
When
Rihanna released Fenty Beauty
in September 2017, many people were online celebrating and claiming that other brands were "cancelled". Now, some of the same folks are upset with Tarte. Look, I'm not saying you shouldn't be upset with Tarte. That's mad petty of them to basically only have two shades of brown within the Shape Tape foundation collection, however at this point in the game it should be expected from companies that were not made for WOC from jump. Let me be blunt, everyone and every company does not care to be inclusive and pro-POC even in this era where inclusivity is pushed more than ever. When companies do express a nonchalant attitude towards POC customers, put two middle fingers up and rock with the girls making makeup for you.
I've noticed that many people in the makeup industry, blatantly ignore BOMB and WOC owned brands and even come up with the most outrageous excuses as to why they can't support them. At this point in the game, I've grown weary of trying to reason with some people why it's important to support brands made for and by WOC. The truth is, a lot of these people simply don't give a fuck about these brands despite their constant "pro-inclusive" "pro-WOC" stance.
I understand that brands like Tarte are high quality, reputable, and are even more accessible at stores like Macy's, Ulta, and Sephora, especially for those who work in industries where makeup is needed. I would never pretend like I haven't purchased products from other companies, but I still make an effort to actively support BOMBs, not just when instances like this happen and not when it's a hot/trending topic. This is a lifestyle, not a fad. Something's going to have to give. If companies do not want your business or your coins, why force them to take it?
Am I saying people should stop purchasing non-BOMB/WOC owned brands all together? Nope. There are non-BOMB/WOC owned brands that do cater to WOC and even give bloggers and makeup gurus opportunities to come up and flourish via their PR lists (because of them being mainstream, they're able to do this in comparison to smaller brands). However if the makeup community is down for WOC featurism and inclusivity the way it claims, they will support BOMBs and WOC brands like
BLAC Minerals
,
Koyvoca
,
Mented Cosmetics
,
Beauty Bakerie
and the many others that have been around for years and are new on the scene.
I'm tired of big makeup gurus on YouTube and other platforms taking advantage of WOC for their own come up, claiming to be pro-inclusive, while ignoring BOMB/WOC owned makeup brands. Some of these gurus want to rile folks up to go in on openly anti-POC companies in order to eventually win a spot to be on a Tarte PR list or stay on it *sips kale smoothie*. Don't run to these brands to temporarily support, then turn around and go back to Tarte when they make more shades for brown skin tones. Don't do that.
What are your thoughts on Tarte Cosmetics' recent lack of inclusion towards WOC in their Shape Tape ad? Share your thoughts below!