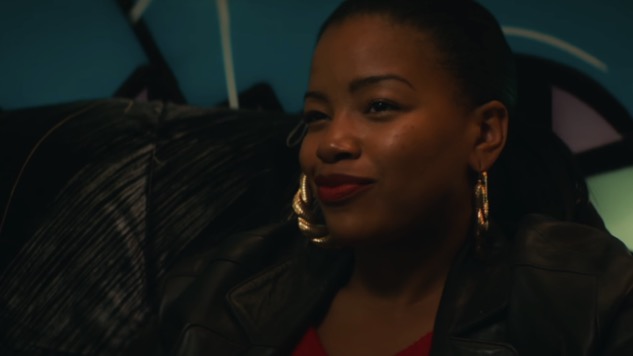 I'm excited, I'm excited, I'M EXCITED! Finally a network has pocked up Queens, New York femcee Roxanne Shante's biopic. I've always felt Roxanne, known for her hardcore battling rhymes and her classic diss record
"Roxanne's Revenge"
, never got her just do. In my opinion, she is undoubtedly the blueprint to Lil' Kim, Foxy Brown, and the women who copied their styles and
"Trick or Treat"
proves that. While MC Lyte, Monie Love, and Queen Latifah brought poetry and Afrocentricity to the early movement, Roxanne gave you bad ass battle bars, attitude, and bossy rhymes to the women's sphere of hip-hop.
The movie production was
announced late 2016
and made its way to Sundance in January 2017. Since then I was waiting oh so patiently for the movie to be picked up because there was barely any news about it. A few weeks ago, I saw a photo of Roxanne on her IG showing her sitting in a "Netflix" chair and then I knew it had to be comin'! And here we are today, folks!
Roxanne Roxanne
details the life of Lolita "Roxanne Shante" Gooden, a 14 year old teen from Queens who found herself involved in the
"Roxanne Wars"
in the 1980's along with the infamous
Juice Crew vs Boogie Down Productions, "Bride War" battles
. Not only does this biopic follow Roxanne's career in hip-hop but also her personal struggles being in an abusive relationship, a teen mother, and her upbringing in the Queensbridge Housing Projects with her mother Ms. Peggy.
The film stars newcomer actress Chanté Adams, Nia Long, and Oscar winner Mahershala Ali. Production was created by Pharell Williams' i am OTHER, Forest Whitaker's Significant production, and is written and directed by Michael Larnell with the Wu-Tang's RZA dealing with the soundtrack. I heard rumors of Keke Palmer (who looks like a young Roxanne) playing the MC in a movie called
Juice Crew
back in 2009, but I guess it never happened. This joint here however is smokin'! The movie will be on Netflix March 23. Check out the trailer:
I legit got teary eyed watching this trailer. It's about time women in hip-hop started receiving their shine. It's one thing to know about 1990's female emcees like Lauryn Hill, Da Brat, Missy Elliott, and others, but there were those who laid a foundation for the culture. I'm so stoked for March 23!
Are you diggin' the Roxanne Roxanne trailer? Will be be watching? Share below!