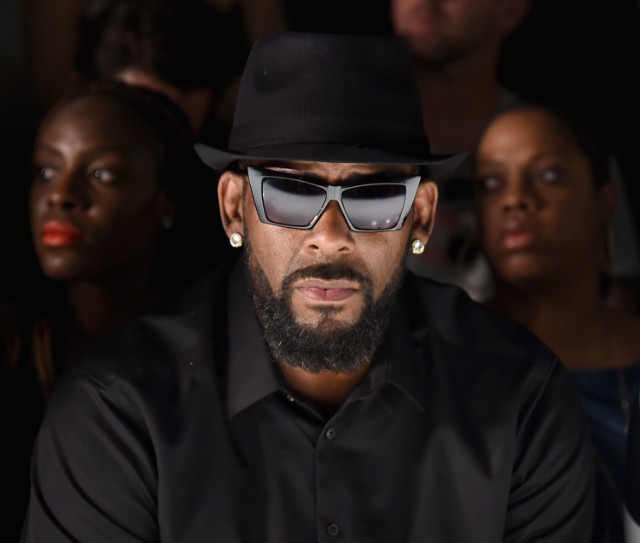 Photo: Michael Loccisano / Getty Images
British Broadcasting Corporation released
an hour long documentary
detailing the behind the scenes sex life of the pissy r&b songbird, R Kelly. Last summer an explosive story blew up revealing that the artist legally known as Robert Kelly
had a sex cult
in both his Atlanta and Chicago homes. The family of alleged victim Jocelyn Savage did a
press conference
detailing the grotesque acts the singer demanded from his young "slaves". The family claims Kelly brainwashed his victims and forced them to perform sexual acts on himself and other women in the cult. Due to Jocelyn Savage being 19 years old at the time, many people brushes the accusations off.
First off, let me mention how much of a damn shame it is that a network not based in the U.S. created this. The victims of Kelly's long going sexual predation has mainly consisted of Black girls from urban areas based in the U.S. Secondly, watching this doc further solidified why R Kelly has been able to flourish for so long. Nobody gives a fuck when an accuser has talent and is bringing in money.
I remember first hearing about R Kelly's predatory nature back in 2001/2002 when I was in fourth grade.
Chicago Sun Times
reporter Jim DeRogatis released an explosive story exposing R Kelly's sexual misconduct back in
December 2000
. DeRogatis also
opened the lid
on the 2017 sex cult controversy. A sex tape showing the singer engaging in sexual acts with a teenage girl was making its rounds and eventually got him arrested and involved in a huge case. The news hit close to home since I grew up in Chicago, Kelly's hometown, but we ain't claiming that fool. A fifth grade girl I rode the bus with told myself and others that she was at a studio with her uncle and saw R Kelly. He waved and motioned for her to come to him and she told us kids "Hell naw, he wasn't about to get me!" We laughed hysterically.
In the midst of the scandal, R Kelly was still being supported, directly and indirectly. For the Black History Month assembly in fourth grade we performed "World's Greatest". I would always change the lyrics to "R Kelly's the world's rapist!" Classmates would laugh and at the time I was being facetious, but even in my 10-year old brain, I obviously subconsciously knew something wasn't right with how this man was being plastered over the media as a child predator, but we were singing his songs at school as if it was business as usual.
"Nobody matters less to this society than young Black women."- Jim DeRogatis
By the time I got to fifth and sixth grade from 2003 to 2004, R Kelly's music was still being blasted by urban radio stations like WGCI as if nothing had happened and
was
happening for that matter. "Step In the Name of Love" was frequently played on the radio. In sixth grade, myself and a group of Black and Brown girl students performed yet another Black History Month performance to "I Believe I Can Fly". The cringe.
Once R Kelly released his 2004 song "U Saved Me", a woman family member, ironically deep into Christianity and a victim of child rape herself, stated; "He didn't do nothing to those girls. They was fast. Girls lie about their age all the time. " after hearing the gospel themed ballad that was strategically created and released during the trial years. Finesse god ish. R Kelly was scamming for support before Joanne, Umar Johnson, and Tyrone Hankerson Jr. stepped on the scene.
While writing this I seriously had to sit back, stop and take all this in. Everyone everywhere loved this man. From school to the family, by both men and women. He was still celebrated, still supported, while his victims were ignored and belittled. I can't imagine being a young Black girl suffering in silence from rape and/or molestation and having to watch everyone support a famous predator like R Kelly. Then we wonder why victims are silent for so long. Nowadays people are still supporting famous predators, but thanks to activism via social media there's a much stronger push back in comparison to back in the 2000's.
BBC's
Sex, Girls, and Videotapes
digs deep into the sexual predatory past of R Kelly where interviewer Ben Zand speaks to everyone from an ex-manager to the singer's own family. Pretty much everyone around him knew about his lust for younger girls but no one
really
said anything or checked him. I believe now more people are willing to speak out than ever for a few reasons. One being that R Kelly isn't in his prime anymore in comparison to where he was in the 1990's and 2000's. R Kelly made a lot of people a lot of money. Managers, audio engineers, his entourage, djs, fellow entertainers, and so many more. One of Robert's ex-managers, Rocky Bivens, even stated that he attended the wedding of the pissy pied piper and the late singer Aaliyah. Another reason is because I'm sure others were in on having sex with underaged girls right beside R Kelly too, as quiet as it's kept.
It's no secret that there's a lot of sexual perversion going on behind the scenes in the entertainment industry, look at the #MeToo movement and Harvey Weinstein expose. Dig deeper and you'll find child molestation in the mix too, just ask people like
Cory Feldman
and
Elijah Woods
. As blogger Tasha K stated, if R Kelly goes down, then many more people are going down. And R Kelly looks like a
"This is bigger than Nino Brown"
type to take everyone down with him too.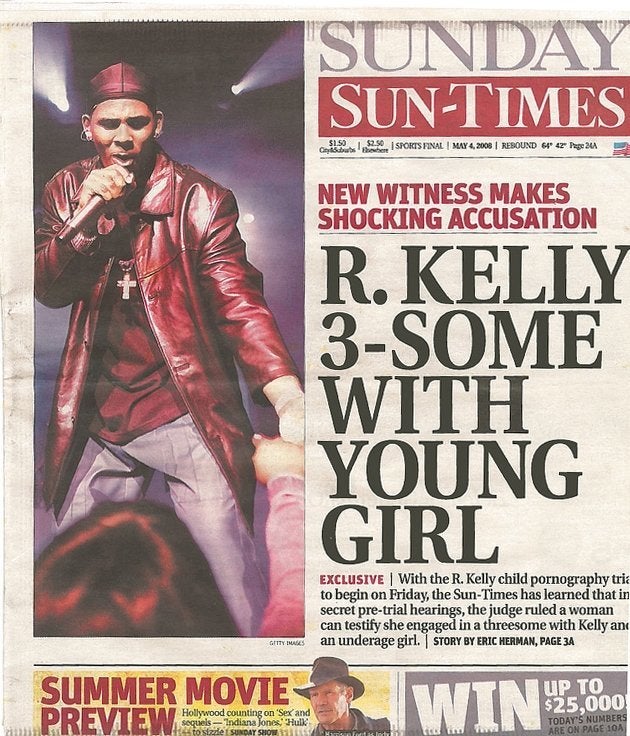 Chicago Sun Times
I'm pretty much still in disbelief by folks in the doc pussy footing around the fact that it's obvious this man has an issue. Footage of concert goers preparing to go watch Kelly perform live were shown and it consisted of a lot of women (as if he'd be checking for their asses and not their teen daughters). The Pied Piper's recording studio engineer James Lee discussed the crooner frequently bringing young girls into the studio for himself and his crew.
Backstage at Xscape's recent reunion tour, Tameka "Tiny" Harris' daughter Zonnique, who is a singer like her mother, proudly stated that she didn't care about the stories of R Kelly and would still work with him because of the work he's created. While in Chicago outside of Kenwood Academy, R Kelly's old high school, Zand interviewed two women about rumors surrounding the singer. Back in the 1990's, stories of R Kelly returning to the school picking up teen girls to have sex with them were frequently shared around the west and south sides. One woman even mentioned that the sex between Kelly and young girls would have been "consensual". This documentary has reinforced that Black girls are protected by no one. This lack of protection includes some Black women, as much as the idea of Black men not being protective is embraced.
Miss me with the "They just tryna take a Black man down", "Crabs in a barrel", faux outrage, manipulative, fickle "pro-Black" foolishness as well. There are legitimate Black men who have been wrongly convicted of crimes strictly due to their race and there is R Kelly who has a
timeline of sexual perversion extending
20+ years. Don't come 'round here telling me about sexual predators like Woody Allen and Roman Polanski being supported by White folk. These two are still being called out and the comparison is irrelevant when R Kelly is still selling out tours around the country.
It has to be driven home that this issue is bigger than just R Kelly. This speaks to the
high stats
of Black women and girls being victims of molestation and rape. This speaks to sex trafficking of girls and women. This speaks to older men preying on girls and teens. This is something many of us want to sweep under the rug but it's not going anywhere anytime soon. It should also be noted that we have to pay attention to people who are still ignoring and making excuses for the grotesque nature of this man whether it's direct or indirect. I'm not going to judge folks for liking this man's music, but attending concerts and purchasing his music (financial support) and disregarding the numerous stories of victims is a whole next level of fuckery, in my opinion. Those who see entertainment as more important that self-preservation are dangerous.
Check out the doc below:
What are your thoughts on Sex, Girls, & Videotapes documentary? Share in the comment section!