Her milkshake brings all the boys to the yard and her fashion brings all the looks to the runway! Give the good sis Kelis her props because she is one of the sole sources of inspiration for today's "edgy" look. Gray hair, pink, blue, and green dyed curls, flashy jumpsuits rocked by your favorite IG models, the singer already been there and did that. Hands down, Kelis has always one of my top five most influential fashion icons.
As a pre-teen growing up in the 2000's, her edginess always spoke to my budding edginess. I already rocked with her, but when the "Bossy" music video dropped when I graduated from 8th grade, it was over. I was absolutely mesmerized by the aesthetics. The short hair, the luxuriousness, the "Mrs Jones" necklace, the grill. It instantly became one of my personal theme songs.
Without a doubt, she was ahead of her time and the Queen of the early 2000's fashion. Not only were her music videos like
"Get Along With You"
and
"Acapella"
on some next level shit, but she followed up in her real life style.
Here's a look at her evolutionary looks:
Getty Images
Kelis swaggin' with a poodle during the shooting of her 2006
"Bossy" music video
Getty Images
Only Kelis can pull this tutu dress look.
Getty Images
Stepping outside the box and crushing it with these feather lashes and white sheer bustier.
Getty Images

Pleated dress with white booties. An unorthodox look.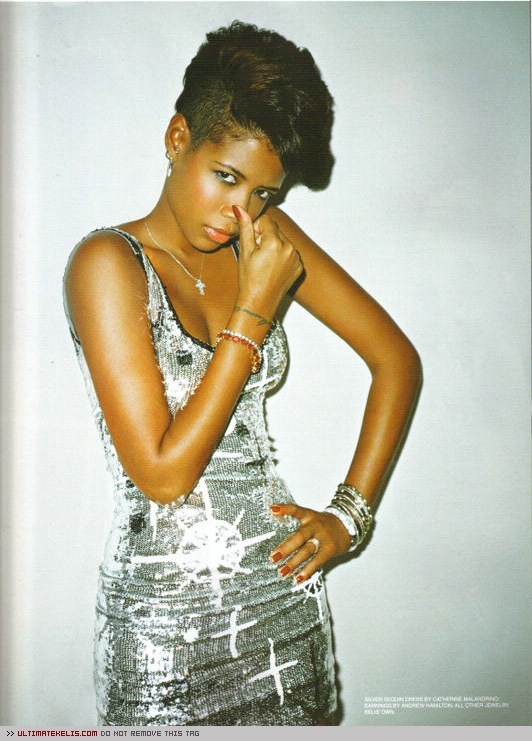 Getty Images
Brown skin and a silver, glitter dress. Pure glamour.
Getty Images
Gotta recreate this look for a future summer day party.
Getty Images
Serving some Cruella Deville realness. I definitely need a fur hat like this.
Getty Images
Beehive hair, winged liner, pink cheeks. A 1960's style to the "T".
Getty Images
Her curls and that sequin top are HITTING.
Getty Images
Looking like a fly ass lizard in an all green jumpsuit. I stan a fashionista legend.
Getty Images
Another very vintage look, ode to the 70's compliments of the big hair and red lips.
Getty Images
Never knew Kelis was this into fur coats like this. Curls, plain face, and gray coat and outfit.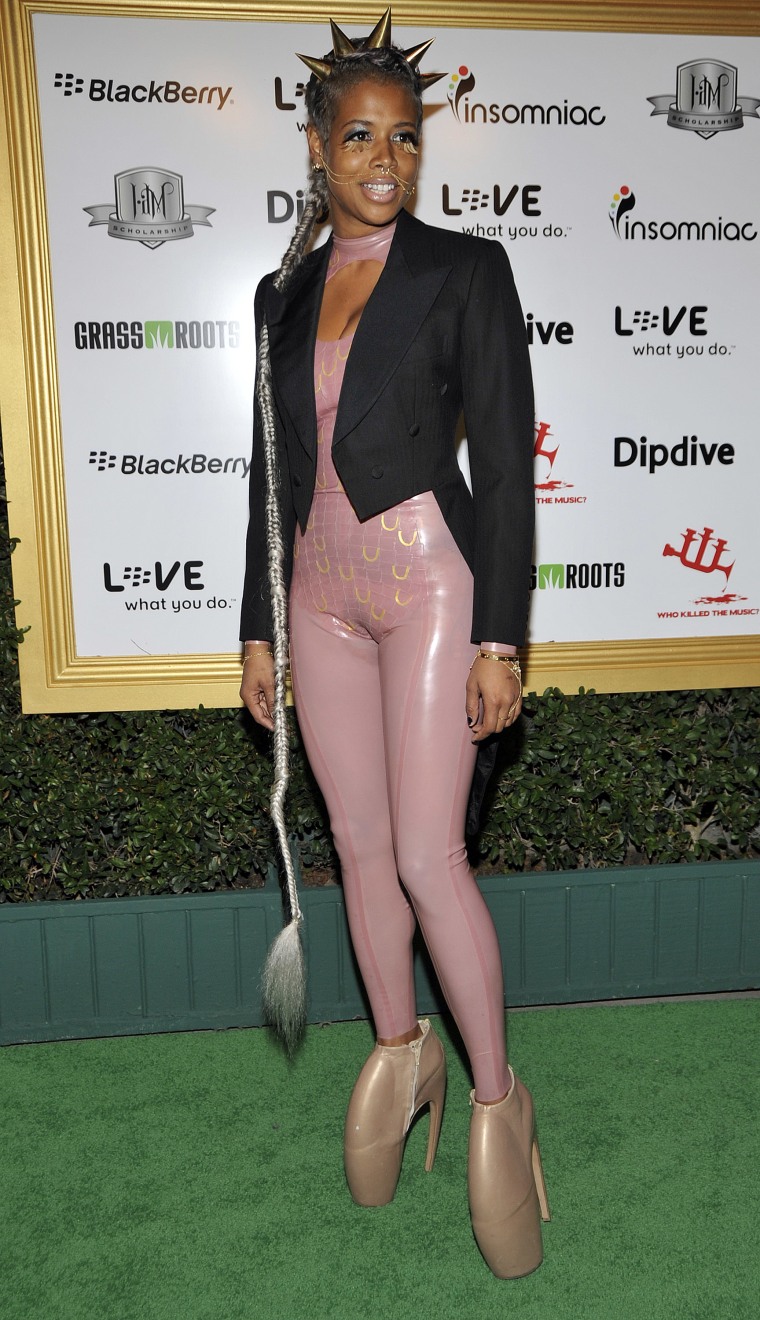 Photo: John M. Heller/ Getty Images
This look alone is why Kelis is the true style icon she is. Pushing all the boundaries with the spiked hair, lobster heels, and metallic jumpsuit. Intergalactic couture.
Getty Images
Real fashionistas make art and style collide.
Getty Images
Come on with the Remy Ma blonde bang.
Getty Images
Cat woman vibes via the nails on the gloves. I live.
Getty Images
Otherwordly and gorgeous.
YouTube
Sis looks breathtaking in this shot. Loving the black bustier, mini skirt, and pumps. Simple and so chic.
Getty Images
Iridescent one piece, fur and icey accessories. Curly hair. One of her best.
Vevo
Star Wars realness.
Getty Images
Ethnic prints and a crown. A summer look foreal.
Getty Images
From the
"What It Is" music video
alongside Busta Rhymes. One eye all done up, the other plain, with a side of space bun braids, and fishnets. Only in a Hype Williams production.
Getty Images
This matching fringed blazer and dress is screaming "2007".
Getty Images
Not sure if this is a jumpsuit or a dress, but I'm loving every bit of it. So fiery and flashy.
Mike Lewis Photography/Getty Images
Your favorite sequin dress could NEVA.
Getty Images
Who can pull off leopard prints better than she? Don't worry, I'll wait.


Getty Images
Not only can she snap on the eclectic styling, but she can go regal too.
Getty Images
Three different color furs with the hat, coat, and boots. Don't be afraid to switch it up!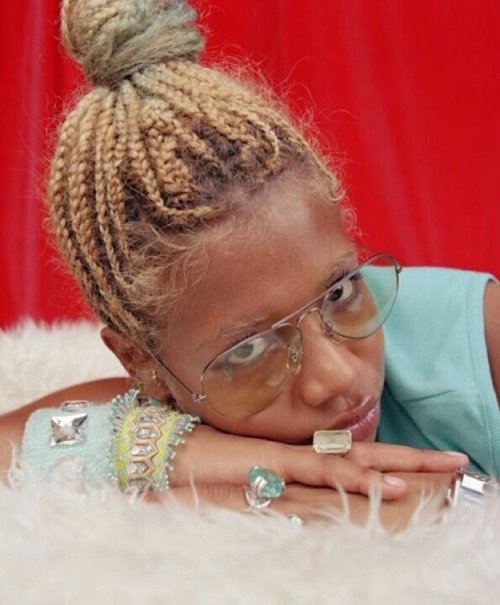 Getty Images
Quinessential early 2000's Kelis. The glasses, hair, accessories, and fur is a throwback vibe.
Getty Images
"Tasty" era will always be monumental for her style. Denim mini dress and sneakers will be on my list of looks to create for springtime.
Getty Images
Yeah, I need this lavendar, glitter jumpsuit for the next "girls night out" clubbing event!
Getty Images
Once again, pushing the limits. Metallic x floral print.
Getty Images
Can we PLEASE get into the 702
"Where My Girls At?" music video
eyeshadow? This really takes this animal print dress to the next level.
Getty Images
Proving you can rock a bright colored pixie cut hairstyle and don a classic dress.
Getty Images
Speaking of hair. I have no clue what in the Jetsons is going on right now, but I love every bit of it!
Getty Images
Simple for Kelis, but still swagged out. Very much 90's vibes.
Getty Images
*cues "Blue" by Eiffel 65*
YouTube
Striped lipstick in the 2002
"Take You Home" music video
with Angie Martinez. Your fave will never.
Getty Images
A true fashion icon will show up and show out in a simple look.
Getty Images

Pink and turquoise work so well with each other. Giving the girls Pepto Bismol realness.
Getty Images
Beaded wig, metallic, geometric belt, for a futuristic style.


Getty Images
Quilt/patchwork coat and ripped jeans is a true autumn ensemble.
Getty Images
Cover for "Fleshtone". More futurism steelo that I'd totally rock.
Louie Banks
Leave it to Kelis to show us how to properly snap with a rainbow colored fur jacket.
Kelis is a lifelike chameleon and shows us you can always switch your style up. Ignore all the rules, wear what you like and wear it with grace.