Autumn is in full swing over here in Chi-Town and I'm loving every bit of it. The weather has been super enjoyable, in the 50's and 40's and the fall fashion has been on point. People really do dress dope af during this season. Y'all know I love dressing from different eras, it's my forte, so I wanted to go for a late 1990's/early 2000's grunge meets preppy look for this ensemble.
On a recent vintage shopping adventure, I came across this fly, striped Paul Harris Denim sweater from the late 90's, shoulder padded and all. I've been itching to wear it because I love the color scheme and it screams "autumn" and "festive". I originally wanted to wear it with a pair of jean pants, but that just wasn't hittin' for a sista! I purchased a 2000's blue jean patchwork skirt this summer and I've been saving it for an obnoxiously tacky 00's look. I decided to rock it with this look and loved it!
I know y'all remember those patchwork denim jeans and skirts from the 2000's right?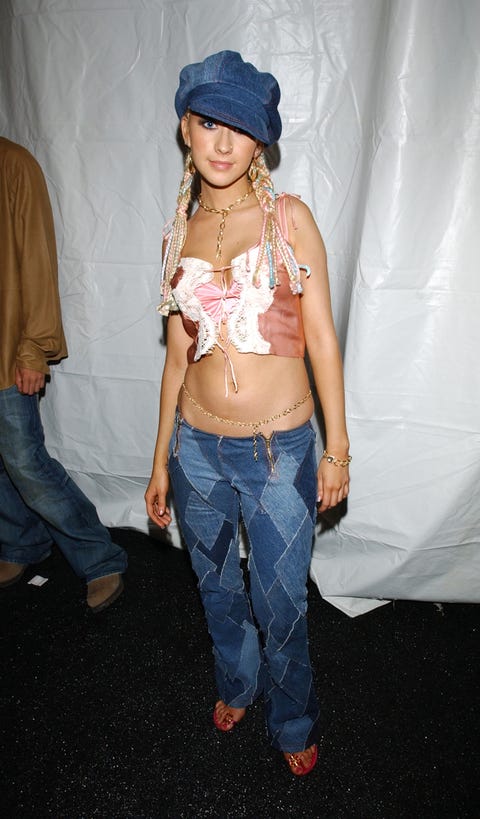 Getty
I always wanted one of those bottoms and I was stoked when I came across this Xtreme denim patch skirt.
To add some edginess to this look, I rocked my vintage Neutral Zone coat from the 90's. This coat is so badass and reminds me of a piece Aaliyah or Da Brat would have worn back in the day with their iconic tomboy styles.
To accessorize, I wore an 80's Toucan Collection wool beret, gold toned earrings I got (on clearance lol) from h&m, my vintage gold heart brooch, and a Monzo & Franco houndstooth print purse I was gifted from styling at a photoshoot.
Make-up Products: