One of the most underrated fashionistas from the 1980's is indeed Sheila E.. The drummer, guitarist extraordinaire is well known for being a protege to the late and great singer Prince. Prince's imprint on Sheila was not only heard in her music but also seen in her style. Prince was known for donning ruffled blouses, brocade print 18th century styles suits, and funky, skin-revealing jumpsuits. Nonethless, just like her iconic drumming sounds, Ms. E. added her own twist:
Getty
Pretty in pink dripping in a 1980's does 1700-something suit.
Getty
I am gagging because this is quintessential 80's.
Getty
Loving this sequined, glitter top. Not sure if it's a dress or what, but it would look great with a pair of long, black, satin gloves.
Getty
Floral print tights, pearls, and a long blazer. A look.
Getty
This has Prince's influence all over it. 80's sex appeal to the maximum.
Getty

Giving the girls Sears catalog realness circa 1988.
Getty
To my fellow 20 year olds, this is where your favorite Fashion Nova two piece originated from. You're welcome.
Getty
Singing autographs back in the day with the Purple One. Lovin' that neon blazer. With the black gloves.
Getty
Your Forever 21 freakum dress could NEVER. And those thigh-high boots? Yes ma'am.
Getty
Captain Jack Sparrow could never.
Getty
A soft and simple all white look throwin' it back to the 70's.
Getty
Glimmering in a suit and matching top.
Getty
Polka dotted out with Prince. Relationship goals, or nah?
This body suit is something Tina Turner would rock. Absolutely stunning.
Blue metallics are so fun and futuristic! This two piece is way ahead of its time.
Getty
Another asymmetrical look with a slight cowgirl twist.
Getty
You know you're a badass when you can play drums rockin' a fur stole.
Getty
Classic, 80's metallic gold dress.
Getty
Posing with her original band back in the 1970's. Such a 70's look!
Getty
Now this is the kinda "little black dress" I need in my closet.
A touch of elegance in an off shoulder, lace, floral sheer jumpsuit.
Flickin' it up with the incomparable Whitney Houston.
Getty
What's a diva without her fur coat?
Getty
60's mod with a whole 'lotta sexy! I would rock the hell outta this!
Rocking another antique styled suit. This time, dipped in gold and grace.
Getty
Banging on congo drums in a pair of heels and a cocktail dress. But can we please get into these lace, fingerless gloves? They're so 1980's and so unique. I'd never think to add those to a look like this.
Getty
That hat is somethin' serious! I'd totally rock it.
Getty
Silver shimmering two piece. Not just suitable for your NYE parties.
Inez & Vinoodh

I'm such a sucker for fringes. Fringes AND boots, though? I live.
Sis is giving us all the elegance in this fur hat, gloves, and earrings. Timeless.
Getty
Your favorite IG boutique could neva. 'Tis all.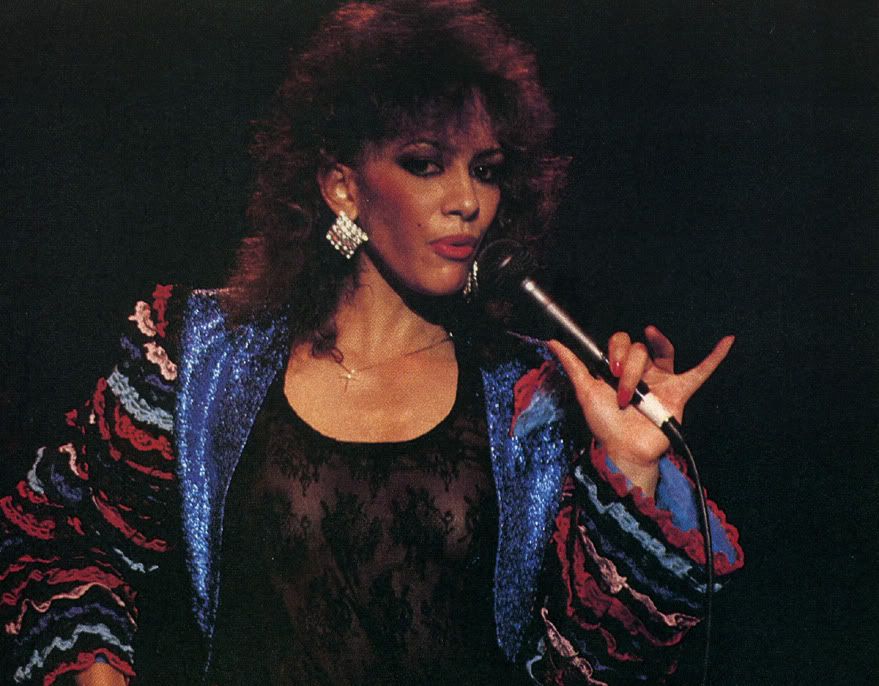 This jacket is so fun! Multi-colored ruffles over a sheer, floral top.
Sheila E.'s style was so diverse. One day she was giving you American Revolutionary War teas, the next giving sex symbol realness. Whatever the look was, she rocked it well all while killin' it on stage with her drums.
My favorite performance from the good sis:
What's your favorite look from Sheila E.?